---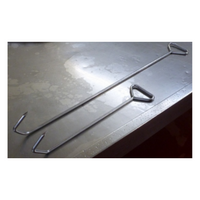 For dragging and lifting carcass parts.
Made from 12mm stainless steel they are strong and stain resistant.
Logging hook design allows for penetration and pulling of carcass, then easy release.
A chain or rope can be attached to triangular handle to assist lifting.
Two sizes: medium (64cm) and long (112cm).