---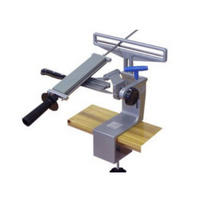 This fully adjustable, robust and easy to use angle setter is fantastic for achieving the constant sharpening angles essential for razor sharp knife edges.
Works by clamping the knife blade in a rotatable vice-like clamping jig with degree angle adjustments.
The stone holder takes the medium (200mm x 50mm) and large (230mm x 75mm) size combination carborundum stones shown below.